Frog Buttress climbing (Mt French)


July 4-5, 2011
Back to Australia 2011 index
Back to homepage

We had brought our climbing gear all the way across from the US to spend a few days tasting what Frog Buttress has to offer - and it didn't disappoint!!! There is an excellent free guidebook which we used to plan.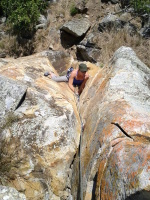 Our favorite parts about Frog: the place is very uncrowded, especially given the ease of access; the camping is top notch (free to camp in the parking lot, or a beautiful campground with picnic tables for $5/night); and the climbs are of world class quality, although short. It's a must visit area, if you love crack climbing!
We started on the left, and worked our way to the right through most of the cliff, trying to do the 4/5 star climbs in the moderate ~20 grade range (Yosemite 5.9-5.10) and were sad we didn't have more time to spend there, as there was plenty that we didn't have time to do! My favorite/most memorable pitch was Rickety Kate, a fantastic stemming corner that turns into a hand crack. When I was past the crux and just getting to the hand crack, I saw a big yellow creature staring at me from inside the crack - I was quite startled and scared, envisioning a nasty poisonous snake waiting to bite me! I placed a piece of gear preparing to lower/jump off if needed, and upon closer inspection I saw that the creature had feet... and a lizard like appearence - phew. It was probably 30-40cm in size, and I decided it looked like an iguana or some other sort of big lizard - an innocent one. It also seemed just as scared as I was... and proceeded to "chimney" deeper, stuffing itself further into the crack, away from the danger I presented. After debating what to do, I scurried past, definitely exciting! Melissa had the tougher task of going past the lizard for a second time, now knowing it is there... thankfully, it all went uneventfully :) We saw a large Goanna on the trail as well, very cool! And definitely unique to climbing in Australia...
One note about Frog that I didn't see mentioned: for most routes, you'll need two ropes to get off... to save weight on the plane, we brought a single 60m, but in retrospect we should have brought the double ropes. Since we really wanted to do some of the classic 40-45 meter long climbs, we did a couple of walk-offs, which wasn't mentioned/recommended in the guidebook due to loose rock - but if you have only one rope, it's not too bad. I also had to do one sketchy lower-off/downclimb when the rope ran out on Erg, which was more like 35 meters long to the anchor, not 25m as the guidebook said. But hey, it made for an adventure! (I'm not going to mention the struggle in the Erg offwidth either... it felt like being at home in Yosemite!)
With sadness, on day 2 we drove back through Brisbane and left our climbing bag at Janelle's place, to collect before our flight back to SFO. We were planning on flying down from Cairns after dropping off our camper van there, and the baggage limits on domestic flights are completely ridiculous. It was a bit sad, as there was some climbing we could have done further up the coast, but you can't always do it all!
On the following day we scrambled up Mt Tibrogargan in the morning, before going to Australia Zoo to play complete tourists.
Our camper van and home for the next 18 days
Cooking eggs for breakfast every day, just like at home :)
The bed sticks out and is covered by the awning
Really?
There were only 4 of us and 400 routes to choose from, but we managed to be right beside each other on the first one :) Beautiful crack to warm up...
Feeling at home...
Views from Frog Buttress (the town of Boonah and country side)
This sweet looking guana walked by!
Some thin dihedral that leads up to Rickety Kate corner
Rickety Kate is this amazing looking corner!!! How can you not climb it?
Game on
Amazing stemming... super fun pitch
About there, I discovered a big, bright yellow lizard inside the crack that scared me!!! Thankfully he eventually crawled further inside and I went by...
At the top of Rickety Kate
Another irressistible climb: Erg
Starting up Erg
Fiddling in gear near the crux
Such pure fun! Let's not talk about the menacing offwidth not seen in this picture :)
Melissa starting up Plume, another amazing line
Beautiful spot...
The crux is actually a long reach to a jug you can see (easy if you're tall)
Enjoying the evening light
Another badass chain anchor
Melissa starting up the stemming of Rickety Kate
Worried about the big lizard :)
Happy to have evaded the lizard!
Erg. So much fun, except for the upper squeeze chimney/offwidth!
On Infinity, one of the classics (glorious 2" handcrack goes on forever above me!)
Another classic...
The lower portion was bouldery, with poor pro, but then it was great fun!
And after this, we went back to Brisbane to embark on the next chapter of our journey!
Previous Page