Canada Ice trip


February 24 - March 4, 2011
Previous Page
G+ post/select photos
This year's ice climbing relaxation trip was scheduled to take place in the Canadian Rockies, my old stomping grounds (last year we were in Norway, before that to Italy, etc.) For the first 4 days we were based in Calgary, fueled by my parents' great hospitality and mom's amazing cooking :) Then we went to Banff and stayed there. Break down below, with a short trip report following (the full resolution / complete collection of photos are below that):
---
Day 1
Fang and Fist: On Saturday morning we met up with Jason and decided to climb the Fang and the Fist in the Ghost, a social outing with comfortable belay ledges and a spectacular location. Hedd-wyn and I went there a few years ago, but got stuck in the snow driving in, and blew half the day digging - so we couldn't finish the whole climb. This time we were the first on the climb and the road into the Ghost was very chill - Jason's new 80 series LandCruiser with leather seats delivered us to the trailhead with no fuss and in great comfort. It was fairly chilly (around -15 C) and lightly snowing, but cleared up in the afternoon.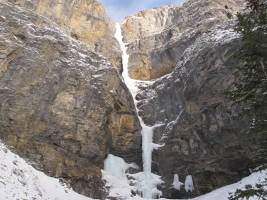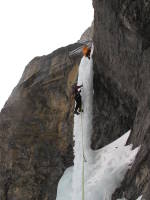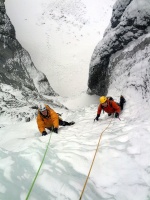 The first pitch pillar was pretty hollow and didn't provide much protection, but it was fun and easy climbing (ice climbing provides perhaps the starkest disparity between physical and mental difficulty when it comes to climbing). Jason took some pictures and we generally took our time, enjoying the positions (Jason, send me yours pics!! Ha ha)
---
Day 2
Sunshine ski: Sunday was forecast to be a high of -20 C in the mountains, so climbing didn't seem like the best idea. Also the past several days had deposited a foot or two of snow, so we thought it's a perfect opportunity to go ski... we decided to be lazy and go to Sunshine as opposed to go into the backcountry (decision was made easiest by the high avalanche danger meaning we were quite restricted in the safe choices of places to go). Of course, the wind and -20 C meant we didn't get any pictures, we were too busy skiing and shivering on the lifts :) Thankfully Delirium Dive opened in the afternoon, we had an amazing run there in boot top powder, what more can you ask for! There was nobody else there, unbelievably, apart from a couple of ski patrol scratching their way down a rocky chute. Sadly, by the time we came back for a second run, it was closed! Oh well. Instead, we spent some time accessing the side bowls from Goat's Eye lift, and did some damage to our skis (amazing how with 6.5 meters of snow, the scree slopes are still exposed, some major wind up there).
---
Day 3
Malignant Mushroom: We were actually planning on going to Hydrophobia, but even at 9am, the temperature was -18 C... and we didn't manage to get the early start that we wanted - leaving the house past 8am... so decided to have a short day and went to Malignant Mushroom. It's one of the South Ghost gems, given the short approach, sunny location (perfect for chilly days like ours) and shelter from the wind that was hammering the valley that day. Karen made short work of it, while I basked in the sun belaying - now that's vacation! :) It was still really early so we had plenty of time to go to Wicked Wanda and GBU, but upon second thought, we decided to go back to Calgary and peruse MEC, and then cook dinner for my parents, drink beer and chill in the evening. Worked out perfectly!
---
Day 4
Hydrophobia: I think I am losing count of how many times I've climbed Hydrophobia, but it remains my favorite ice climb EVER! It is an amazing climb and it was one of my first. The various new driving restrictions in the Waiparous meant that we had to walk an extra hour, but it was worth it! The ambiance and quality of ice there are always simply stunning (enough superlatives yet?) We climbed it in two pitches again - one full 70 meter pitch to the nice sheltered cave 2/3rds of the way up, then a 50 meter pitch to the top. The first few meters out of the cave was tougher than usual with some airy and slightly overhanging ice, but the ice quality quickly improved (and steepness backed off) after that.
The most unusual and perhaps coolest part of our day were the mountain lion tracks we saw circling ours, on the way out... Walking the whole length of the bog on foot, on the other hand - much less cool, I was wishing for the truck.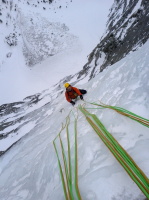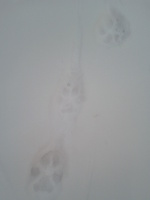 View Hydrophobia 2012-02-28 in a larger map || Download GPX || Download KML
---
Day 5
Haffner Creek/Rest day: We were a bit tired from waking up early the day before for Hydrophobia, and being on vacation, decided we don't have to subject ourselves to suffering 24x7. Sleeping in was followed by a big breakfast of my mom's pancakes - yummy! Then we debated what to climb... and decided to go to Tokumm Pole in Marble Canyon, which is actually one of the more strenuous ice leads you can do in the Rockies, as the bottom is often 20 feet of overhanging ice with poor feet - due to the toproping traffic beating it to death. Anyway, so we went there hoping to lead it and do a few laps... but even though it was Wednesday, there were people already on it, with an elaborate anchor/camp-out situation - oh well, it was well past noon so not shocking!
So we went across into Haffner Creek, where I had actually never been before, but wanted to check out anyway - good opportunity! Of course, by the time we rocked up to the base, it was almost 3pm. Alpine start! We started off by leading Shagadelic - the beginning is completely trivial due to pick-enhanced holes in the rock now being quite deep... but the transition to the ice consisted of a couple of fairly exciting moves with poor feet. One final bolt, and moving onto thin ice to the top, and that was it - pretty short. We then chose to toprope the neighbouring routes, which were in the M6-M7 range.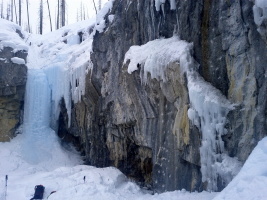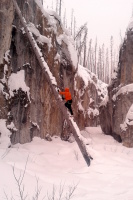 ---
Day 6
Weeping Wall: Early start from Banff... but not early enough. There were hordes of people from the hostel that were already plastered all over the Lower Wall once we arrived - shocking! Thankfully, despite the 5 parties already on the wall, the center line was still available. We climbed it in 3 pitches (the third short) - great ice quality, and the sun peaked behind the clouds to keep temperatures comfortable. We were delayed a bit by a (guided) party that chose to climb below us - we changed course as a result, not wanting to mutilate anyone below.
Then we headed to the Upper Wall / Weeping Pillar, which we were hoping to also do. Unfortunately, there was a party half-way up it and they were dropping ice (as you would expect), so we thought it would be unwise to climb below them. So we ate lunch and waited for them to finish and rappel, which cost us over an hour. Then one long pitch (70 meters and a bit of simul climbing) and we were at the prominent ledge 1/3 of the way up. Another pitch to a small cave on the right, and given the late hour we decided to bail instead of rappelling in the dark... will have to go back to finish the whole Weeping Wall, and get up earlier I suppose. Social ice climbing is neither?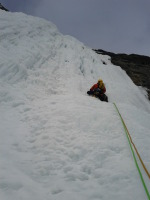 ---
Day 7
Johnston Canyon: Another lazy day was in order, starting with a huge breakfast and coffee in Banff. I had never been to Johnston Canyon due to my allergies to crowds, but given it was a weekday, that was probably as good as it would get. It is such a beautiful place to walk... even better in winter! There was another party initially toproping the right hand pillar (and then they led it) - so we did the left hand one first, and then the right hand one. Both were great! The evening was rounded up by an all-you-can-eat seafood buffet in town - yummy! We ate so much that I hardly felt like I could walk. Dirtbag style, we also stashed a couple of smoked salmon sandwiches in our pockets for the next day.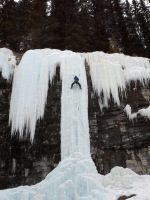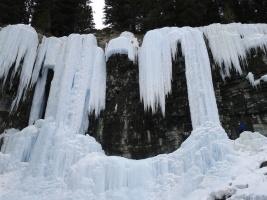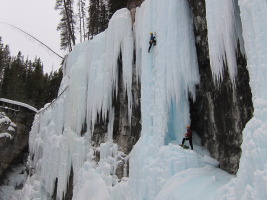 ---
Day 8
Trophy Wall/Replicant Attempt: Becoming a morning person! I still hadn't been up to the Trophy Wall and really wanted to check it out. Last year all the climbs were super fat and Hedd-wyn and I tried to climb Sea of Vapours at Christmas, but even though we showed up at the parking lot at 6am, we got scooped by another party! So this time, we stayed in Banff, and got up even earlier, in order to ensure we were first. We left the parking lot at 5:30am, which felt way too early... but a breakfast and RedBull later, I was fired up to go. We rented bikes which was definitely awesome. The other factor adding to the excitement was that a snow storm and 40 mph winds were supposed to move on the same day we were going - and with that, added avalanche danger and generally unpleasant conditions. We hoped that by our early start, we'd have a head start and get out of there before the storm. However, since this was our 8th day of climbing and skiing in a row, we weren't breaking any speed records on the approach, about 3 hours to the approach pitch (probably 2 hours of walking + 1 hours of screwing around). I made a GPS track for future reference / if anyone else is interested (download it below). The trail is very easy to follow when there is an existing boot track - if you are the first going up there after a fresh snow fall, that would be another matter. The majority of the approach follows a ridge and is fairly devoid of avalanche danger, but there is one slope toward the end (before entering the amphitheatre) that gets wind loaded and there is no good way to avoid it. On the way down you can skirt the top of it and rappel / have a rope on between some large trees (especially if several feet of snow have been added while climbing...)


View Trophy Wall Approach in a larger map || Download GPX || Download KML
Once we roped up the winds were really picking up and the spin drift (blowing snow) meant we both had our hoods up and were getting chilly. As usual with ice climbing, getting up to the wall makes it look less intimidating, but the position, increasing wind and approach behind us reminded us that we were in a very serious place. As I racked up for the first pitch of the Replicant it started snowing lightly. I started and climbed to the cave / small pillars 2/3rds of the way up, having to stop twice while getting blasted with intense spindrift (couldn't see a thing!) Getting up to the cave, I was hoping the left hand pillar would look more solid from up close, but instead I found it is essentially supported by a wrist sized icicle... I put my tools in the pillar and went up and down a move, but based on the sounds / vibrations I just didn't have 100% confidence in its integrity (hanging daggers are quite hard to predict!) While I was contemplating, I felt like the wind and spindrift were also talking to me and telling me to get the hell away... so after Karen joined me, the decision was easy - let's get out of here, we'll be back another time!
The walk down was a bit intense due to the winds we were on all fours in a few sections, this short video I captured shows it well. Luckily the rest went quickly, we were in town at 3pm drinking beer and going to the hotel's hot tub. Then we had dinner with my parents and friends... nice social end to the day!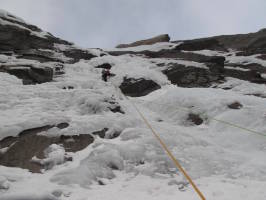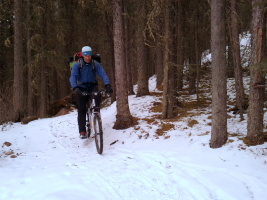 ---
Day 9
Grotto Canyon: We were flying home on Sunday afternoon and had to pack / eat / get organized at the house, so we wanted a short fix to split the drive home - Grotto Canyon it is! Luckily, there was almost noone there, much to our surprise! The weather had changed significantly, perhaps +10 C, and everything was melting. Karen climbed Hers (seeking out the steepest line of awesome plastic ice), and then I scratched up the left side of His, appreciating the protection bolts before the ice. After that we toproped Mental Jewelry, which was fairly doable at the start but featured a desperate section between the last two bolts, getting onto the 2" of melting "snice". Would be a pretty exciting lead in these conditions... a couple of Kiwis also did His & Hers while we were there.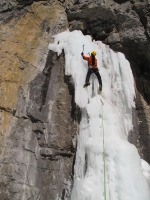 And with that, we went home, the end of a great week in Canada! The touchy avalanche conditions meant we couldn't get on a few of the routes we wanted to, but what can you do. There is always next time! And following is the complete photos collection...
---
At the parking lot in Malamute Valley with Jason
Fang and Fist! Snowing lightly and quite cold...
Me on the pillar with Jason taking photos :)
Coming up the first pitch simultaneously
Second pitch pillar
Jason giving the cool look at the top
The Ghost - beautiful place!
Sun peeking through the clouds
The Fang and the Fist on the way out - with the snow having cleared...
Beautiful line!
Karen starting up Malignant Mushroom in the South Ghost
Malignant Mushroom
There was a v-thread only about 15 feet up the climb - and someone had lowered through it, wtf! (Burned)
Malignant Mushroom, quite beautiful in the sun
In the MEC bathroom. :-) Happy Days near Ice Nine on the Icefields Parkway
Starting up the pillar on Hydrophobia - in harder shape than usual this year
Hydrophobia, my favorite ice climb
What a cool piece of ice!
First pitch - full 70 meters!
The wall next to Hydrophobia
Rappelling down - note little person :)
Hydrophobia as we're walking out...
Cat tracks in the snow - yikes!
Walking out through the bog - long walk...
But a beautiful place
Trophy Wall on Mt Rundle, as seen from the highway
Binoculars :)
With the help of binoculars. Looking thin up there...
Haffner creek. The white pick marks on the gray slab is Shagadelic, a very popular M6 we did first
Some guys climbing an M8 (?) on the left wall
Shagadelic and Californication (ha)
Large broken pillar at Haffner
We walked up the canyon...
Tree climbing - good practice
Walking out of Haffner, very close to the road
Weeping Wall on a Thursday - can you count the # of people? Yikes.
Upper Weeping Wall / Weeping Pillar
Cruisy ice to the top of the Lower Weeping Wall, Center
Busy parking lot, unbelievable for a Thursday!
Weeping Wall as seen from the car - Lower and Upper.
Karen coming up the first pitch of Center (to the cave)
You can see the cars below :)
First went left, but there was a party below that was threatened by icefall, so...
Right it is!
Upper Weeping Wall - Weeping Pillar, pitch 1 (70+ meters)
Pitch 2
Johnston Canyon ice
The other party on the right pillar before we did it
Johnston Canyon - two main pillars
You can see the right hand pillar from here - it's pretty steep!
Spectator platform
Karen on the left hand pillar, photo by Brett Bilon
Another shot from Brett Bilon - thanks!
Banff as seen from the Trophy Wall approach
The dirty cliffband
Very exposed approach, we tried to mostly stay on the rock
Just need to round the corner and we're there!
One approach pitch from the base
What a bunch of wild climbs! From left to right Terminator/T2, Replicant, Postscriptum/Sea of Vapours
Close up of Replicant, our route of choice today. The two skinny pillars are a concern...
They look precarious from here, eh?
Bolt belay the base of the approach pitch
Approach pitch
What a wild position
At the base of the Replicant, Trophy Wall
The Replicant above! Somewhat 3D feel to it
Starting the first pitch of the Replicant
Coming up to the cave next to the two skinny pillars
Trying to psyche myself for the skinny pillar, hmm
Me at the base of the pillar, contemplating, while the insane winds are blowing spindrift up and down
Photo of the pillar I had to commit to. Decided not to after trying it... completely unsupported, essentially.
The Terminator looks insane
The right hand pillar looked a bit better, but only about 20cm wide and precarious too. Of course, above the ice was super solid...
Smoked salmon sandwiches, thanks to seafood buffet night before :) Huddled in a little rock cave during the insane winds...
Calling it spindrift doesn't do it justice - the winds would swirl the snow up and down in one continuous motion. (This is over La Goute)
Karen coming down. At this point the wind was so strong, we were almost on all fours...
Cornice forming and expanding in size very quickly with the crazy winds
Biking down, so much better than walking!
Trophy Wall on Sunday. Different story - much more snow and therefore increased avalanche danger...
Grotto Canyon parking lot - a strange place to have chains on (and it was 4x4, yes)
Starting up Hers, in the strong afternoon sun :)
His - looking very lean!
Plastic ice on Hers
Starting up His - with very little ice
Johs from New Zealand styling up His
Mostly a rock climb...
Previous Page