Owens River Gorge (Bishop)
Alabama Hills (Lone Pine)
Kernville (Southern Sierra)
November 26-29, 2009


View Thanksgiving 2009 climbing in a larger map
Thanksgiving arrived, and it was road trip time! We started off by driving to Tahoe and having dinner/hanging out with some friends of Melissa's, and the following morning we made the relatively quick drive to Owens River Gorge next to Bishop (Monitor pass was open!) The climbing there was pretty fun, steep sport climbing on pocketed rock. The rock is pretty atrocious but the popular routes are fairly clean (if you can't see chalk, watch out for loose holds). It was our first time here, and definitely exceeded my expectations... but they were set pretty low given it's welded tuff, surrounded by plenty of amazing granite to make me wonder why anyone would go there.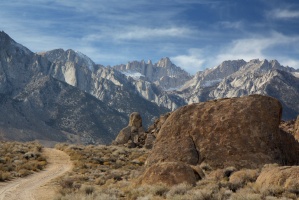 In the evening, we drove to Lone Pine and met up with the Czech bunch (Pavel & Vendula and Carol, Sid and their kids). We had a campfire, drank lots of yummy things and tried out my new stove to make delicious turkey tacos (it was Thanksgiving after all!)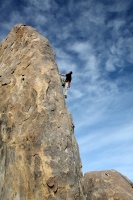 The following day was spent in the Alabama Hills, which is pretty amazing as it has Mt Whitney as the backdrop everywhere you climb. That's why Hollywood loves it too, and you drive down "Movie Rd" to get to it. Primarily well-bolted face climbing, warm and lots of fun.
After making eggplant Thai curry we sat around the campfire again, putting on more and more layers as the night went on. Suddenly clouds rolled in and the winds picked up... time to retreat to the tents. Much to our surprise, it snowed during the night, and we woke up with a few inches on the tent! I was excited about snowy picture taking in the Alabama Hills, but unfortunately it's a bit lower and it rained there instead. And there was no climbing to be had, as it kept snowing/raining all day.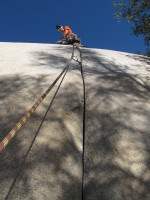 Instead of feeling sorry for ourselves in the rain and fog, we drove to Lake Isabella and found some awesome hot springs next to the river (a short hike). We shared them with some friendly folks that lived around there, who turned out to be climbers too, and exchanged some stories. Eventually we had to leave, and we headed to a B&B in Kernville, and checked out the local brewery. The Class V stout was so amazing, I think I'd go back to Kernville just for the beer - wow!
On the last day, we climbed at Kernville Rock, a nice 300 ft slab on the side of the road. It has an excellent approach trail, but instead we parked in the wrong place and had to battle various prickly bushes for at least half an hour... ugh. And I stupidly wore my flip flops, which would have been fine if we found the trail, but bushwhacking through bushes with flip flops isn't fun. Once there, there were some "locals" from Bakersfield, they were as surprised to see us as we were them! We climbed a bunch of the climbs listed in the "California Road Trip" book (buy it), lots of fun from a couple of great cracks to some thoughtful slabs.
And at the end of the day, we couldn't ignore the fact we had to go to work on Monday... the long drive back was the price to pay for an amazing weekend.
Roping up in Owens River Gorge
Sunny rock in Owens River Gorge
A girl sending on Sendero Luminoso
The crux is actually at the very top, a couple of thin slab moves
No posing!
Vendula
Vendula and Pavel
Pavel on the Shark's Fin (5.10b)
Melissa after the crux moves
The spectacular backdrop of Mt Whitney, Alabama Hills
The Shark's Fin
Pavel on the 5.10c on the other side
I had a very tough time with this move, and kept backing off
The twins are hanging out
Alabama Hills
Eggplant thai curry, mmm
A surprise in the morning at the Lone Pine campground
Joshua Trees on the way to Lake Isabella
Forest of Joshua trees
Hot springs next to the river
Pretty big change from camping :)
On Lieback, one of the best 5.6's in California (although, the optional corner at the top is no 5.6 :))
Rapping off with the Kern River in the background, famous for whitewater rafting & kayaking
A view of Lieback (5.6)
Chouinard Direct, 5.8+ slab, lots of fun
Melissa coming up Chouinard Direct, sweet slab
The Kern River at very low water
Looking down the upper section of Initiation Crack, 5.10 (starts with amazing fingers, then easy)b
Me after the difficulties of Initiation Crack (5.10)
A better view of the size of the crack (blue to yellow TCU)
It's almost December, and it's hot!
Starting up the right slab, can be linked into 1 long pitch
Pretty nice!
My rappel gloves look like boxing gloves on Melissa
Looking up at the slab, pretty delicate and thoughtful climbing!
Previous Page